Loading and Installation for
Fixtures and Machinery
RESPONSIBILITY
Store and office fixtures, glass fixtures, fittings and other such items are highly susceptible to the application of heavy loads and vibration, and require specialist staff for loading. Maruyama Transport draws on its extensive know-how accumulated over the years to ensure your cargo reaches its destination safely and securely.
case of example
1 Machinery taken out from the factory is transported to its destination in a delivery vehicle equipped with an air suspension system and temperature controls.
2 Machinery taken out is stored in our warehouses, either temporarily or for a set period of time.
3 Machinery taken out is packed in wooden crates after moisture-proofing for export.
4 Machinery is loaded onto a marine container and taken to the designated port.
5 Factory production lines can be relocated as they are.
6 Cargo is carried in and out outside of business hours for restaurants.
Example introduction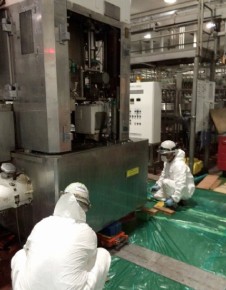 Dismantling and carrying out of machinery
Dismantling
Maruyama Transport dismantles and carries out production machinery at food plants. As this equipment is connected to peripheral machinery, the process of dismantling and carrying out the machinery is performed at the same time. This work requires special care due to the heavy weight of the machinery.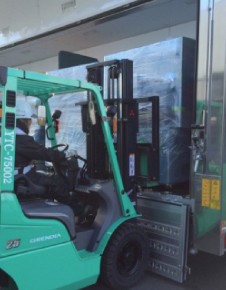 Packing and carrying out from the factory
Carry out export
Dozens of semiconductor manufacturing equipment are carried out of the factory for transporting to locations in Japan, and to be prepared for exporting once packed. Maruyama Transport specializes in the handling of semiconductor manufacturing equipment. We offer a one-stop service that encompasses everything from carrying out from clean room settings, transporting cargo in vehicles fitted with an all-wheel air suspension system, the packaging of products for export, loading, customs clearance, forwarding operations, and more. All transportation processes are collectively managed, making delivery arrangements a quick, stress-free experience for the customer.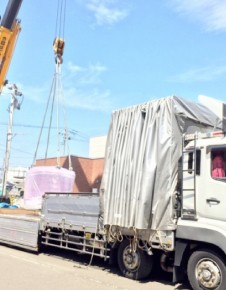 Carrying out and transportation of large medical equipment
Unloading transport
Carrying out and transportation arrangements for replacing large medical equipment is completely performed in-house, including carrying out equipment, crane preparations, arrangements for traffic guides, transportation in vehicles equipped with an air suspension system, and other operations. Large medical equipment often needs to be suspended with a crane, prompting the use of an accordion-type flat body with air suspension out of concerns for the weather having an impact on delicate machinery during transport.
Ordering procedure
Preliminary inspection 
Confirmation of the actual machinery and other objects being transported or drawings of such, and points at which the cargo is to be carried out and carried in.
Quote
A quote will be provided based on the nature of your request.
Order placement
Finalization of specific work dates and times.
Detailed meetings
Reconfirmation of the order request.
Work commences
The requested work is performed by our specialist staff.