Specific cargo container
Specific Cargo Containers

Loading/Unloading
VANNING・DEVANNING
We transport large-size machinery, machining tools and a wide range of other heavy equipment using open top, flat rack and other specific cargo containers. We also deliver non-standard cargo to overseas destinations.
Use case examples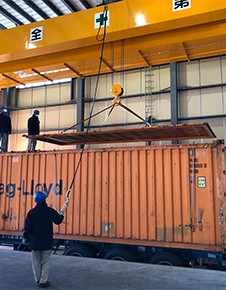 Hard top containers
Hard top container
Heavy freight is loaded from the top of the container using a 10 ton crane in our packing center. As this performed indoors, freight can be loaded and unloaded irrespective of the weather conditions.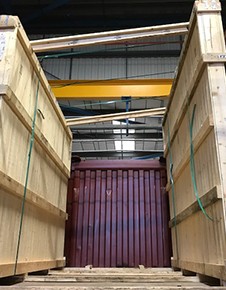 Open top containers
Open top container
Freight is loaded from the top of the container, making this type of container ideally suited to large machinery and other bulky cargo items. As with a hard top container, all loading work is performed indoors in our packing center.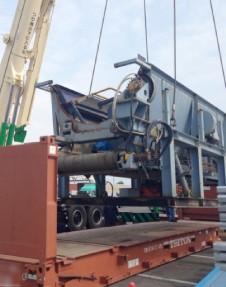 Flat rack
Flat Rack
Large machine installations that cannot be loaded onto a regular container is loaded onto a flat rack container and prepared for exporting. Export packages are carefully prepared and protected as so to ensure that no issues arise during the transportation process overseas. We have extensive experience in crane handling that takes full advantage of the broad site area of our main distribution center.