Precision equipment transport&
Medical equipment transport
Transportation of precision equipment
medical instruments
SAFE and SECURE
In aiming to be the first point of call for the transportation of precision equipment, fully-specced vehicles and professionally trained drivers with the title of Truck Meister* transport such delicate cargo safely and reliably to their destination.
*A Truck Meister is someone who is well-versed in all relevant laws and regulations, who is naturally an expert in driving in a manner that prioritizes safety above all else, and who plays a vital role in training new, upcoming drivers. The contents of this training encompasses not only accompanying trainees while operating the delivery trucks, but also covers the rules and manners that form an essential part of becoming a part of Maruyama Transport. To become certified as a Truck Meister, one must first clear a strict screening process that takes one's level of work experience and workplace behavior into account, before passing a mandatory written license exam set by Maruyama Transport. All Maruyama Transport drivers work to hone their skills in the aim of eventually becoming a certified Truck Meister.
Offering the comfort of riding in a luxury sedan
Vehicle capable of transporting ultraprecision equipment
General cargo transport
Special vehicles come with an all-wheel air suspension system enabling the transportation of delicate cargo such as ultraprecision equipment and aircraft intended for competitive use. While maintaining a strict level of temperature control, ultraprecision equipment are transported safely to their destination with the air suspension system absorbing shocks from the road, while the stainless steel floor prevents the buildup of dust and wood chips. These vehicles can also be utilized for carrying in and out cargo, installation work and clean room operations.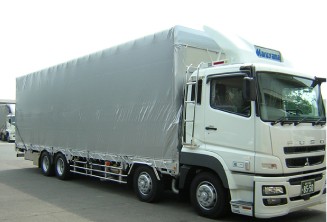 These full-spec vehicles are capable of transporting semiconductor equipment and medical instruments. The wing of the truck extends upwards, making it easier to handle tall precision equipment. Complete with an air suspension system, air conditioning, a full gate, high lift wing and stainless steel floor, these trucks are ideal for transporting ultraprecision equipment.